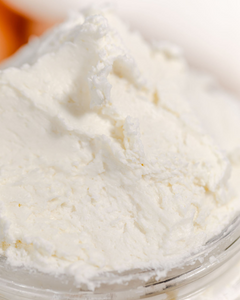 Ohhh la la, heaven for your skin in jars! Grab your favorite scent 
Sandalwood Vanilla Body Butter

WHAT DOES IT DO? 

Our whipped body butterS are thick and creamy, they deeply moisturize your skin .Can help you protect your skin from dryness as well as rough or patchy skin. Body butters contain a combination of naturally derived butters like cocoa butter, shea butter, or mango butter.

HOW AND WHY YOU WOULD USE IT?
You can use your body butter daily or as needed. For dry skin, it's a good idea to use it daily. If you have normal or oily skin, you might use it as a weekly treatment or to treat dry areas.
DIRECTIONS:
Apply the body butter to the entire body after showering or bathing. Its suitable for dry skin on feet, knees, elbows and cuticles. 
A LITTLE GOES A LONG WAY!
WHAT IS IN IT?
These Butters are made with Shea Butter, Mango Butter, Cocoa Butter, Jojoba Oil, Coconut Oil, Vitamin E, Sweet Almond Oil, Aloe Vera Gel & Other Natural Ingredients.
How to take care body butter?
Avoid getting water into the jar, as this product does not contain preservatives and water may cause bacteria growth to occur over time
Store in a cool place.
If exposed to heat, place product in fridge to restore it to a normal state.
Best if used within 6 months.
PLEASE NOTE: Our products can melt in very hot temperatures. Please watch your tracking information and try to grab your shipment from your mailbox as soon as you can. 
Sometimes, during shipping the temperature gets too high which causes your butter to melt. This is unfortunate and beyond our control, but it's still fine! Simply place your hair and body butter in the refrigerator for about 30 minutes and it comes back to it's butter form! The heat may cause the seal of your jar to become extra tight, tap the bottom of the jar and this should make it easier to open!