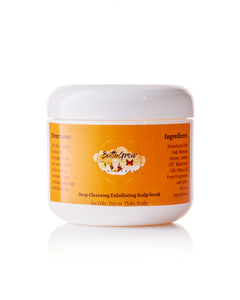 ButtaGrow Deep Cleansing Scalp Scrub (4 oz.)
WHAT DOES IT DO?
Exfoliating your scalp is just as important as exfoliating your face.
Our Deep Cleansing Scalp Exfoliating scrubs will do wonders for your hair. Just like facial and body scrubs, they exfoliate dead skin cells, get rid of any product build-up, stimulate hair growth and keep hair healthy, thick, and shiny. It also removes any dry flakes without completely drying out the scalp.
- Significantly Reduces Dandruff
- Removes excess oil 
- Removes dirt 
- Balances PH levels in hair
WHAT IS IN IT?
ButtaGrow Deep Cleansing Scalp Scrub will leave your scalp feeling and looking healthy!
EXACT INGREDIENT LIST: Himalayan Pink Salt, Manuka Honey, Lemon Oil, Black Seed Oil, Olive Oil, Fruit Fragrances and other natural ingredients.
Himalayan Pink Salt -helps loosen and dissolve existing product build up and dandruff. Pink Salt also absorbs excess oil and moisture to prevent dandruff in the future. Salt also stimulates circulation for a healthy scalp.
Manuka Honey – Soothes the scalp, healing various conditions such as dandruff, eczema and even psoriasis. Honey also has the ability to clean hair follicles, eliminating impurities that have latched onto it.
Lemon Oil- unclogs the pores around the follicles which reduces dandruff. Lemons control the production of oil in the scalp thus preventing an oily scalp and look.
Black Seed Oil- Helps make your hair healthy, Soft, Hydrated and Shiny without consistent use. It can also reduce inflammation, stimulate hair growth and reduce flakiness and sensitivity,
Olive Oil – Has a moisturizing effect also fights infections caused due to bacteria and improves the blood circulation in your scalp. 
HOW DO I USE IT?
Directions : Wet Hair, Apply scrub and massage scrub into scalp, let it sit for several Minutes. Rinse well and follow up with shampoo. We recommend ButtaGrow Rejuvenating Rosemary Shampoo.
Paraben, Silicone, Sulfate and Cruelty FREE